Art Journaling: A Playful Approach to Creativity and Self-Expression
Let go of perfectionism and unlock creativity
Hello art lovers!
Today, I want to talk about my recent experience with art journaling and how it helped me overcome my creative block. As some of you might remember from my last post, I was struggling with creating art and had just picked up my paint brush after a long time. Well, I'm happy to report that I had another small victory today!
I was feeling particularly inspired and joyful, so I decided to capture a video of my art journaling process. I didn't plan anything beforehand, I just grabbed my supplies, set up my camera, and started playing. And you know what? It was so much fun.
You can watch the video below to see the art process.
Instead of treating art as work, I treated it as play. I let go of my expectations or pressure, and just focused on enjoying the process. The key to this experience was embracing imperfection. I didn't worry about what my end result would be or whether it was "good enough". I just focused on making marks that felt good in the moment and putting stickers that I liked. I was able to create so much without even thinking about it. It was like the art just flowed out of me. Not only was this a fun experience, but it also helped me relax and unwind.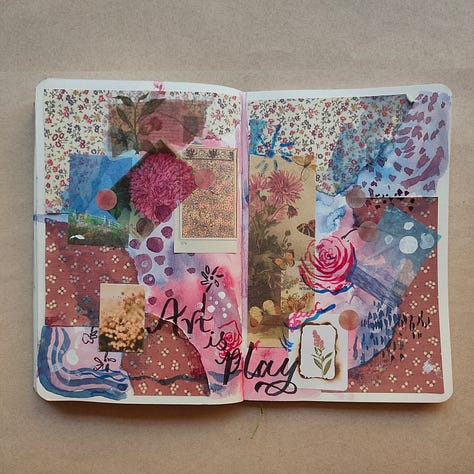 I hope this post inspires you to let go of any creative blocks and expectations you might have, and just enjoy the process of creating. Art journaling is a great way to do this, so grab your supplies and start playing! Remember there's no right or wrong way to do this. Just have fun and embrace imperfection.
Happy Creating.
Do you enjoy my work? Buy me a Coffee!