Peacock Paradise: My Vibrant Painting of a Majestic Bird
Capturing the Childlike Wonder of Nature
Last year, I was in search of a subject for my next painting, something that would evoke a sense of wonder and childlike joy. I drew inspiration from the works of artist Starla Michelle, who has a knack for capturing the childlike wonder in her paintings. It was then that I decided to paint a peacock in all its glory, with vibrant colours and thick textures that would truly capture the bird's natural beauty.
As I worked on the painting, I found myself drawn to the bold colours and playful brushstrokes of Starla Michelle's art. Her ability to capture the essence of nature and animals in a way that feels fresh and new was truly inspiring. And so, I drew from her influence and let my imagination run wild.
I decided to take a slightly different approach to the traditional peacock paintings, focusing less on the intricate details of the feathers and more on the vibrant colours and textures. I started by layering a textured white base and then painted over it with thick, colourful strokes, creating random designs and patterns that felt like they belonged in nature.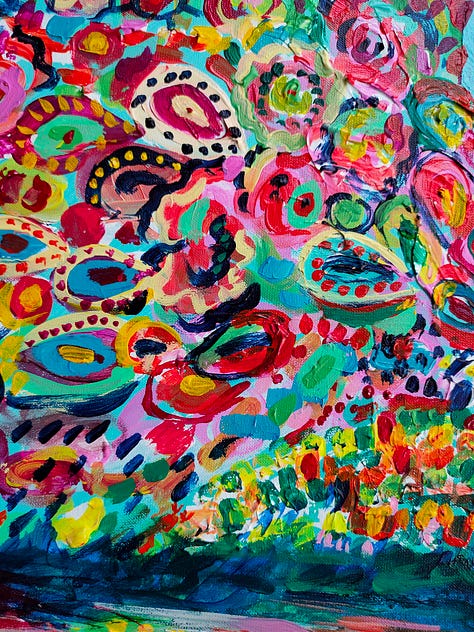 In the end, my peacock painting brought me a lot of joy and happiness, just as Starla Michelle's art does. I learned that drawing inspiration from other artists can help spark creativity and lead to truly unique works of art. And I hope that my peacock painting brings the same sense of wonder and joy to those who see it.
Happy Creating.